Consulting and Development
OUR GREAT VALUE
Blue Octopus has professional consulting and development teams to adapt the platform to your needs, as well as build comprehensive technological solutions adapting them to your business.
Consulting
Sometimes the acquisition of a product is not enough, so it is necessary to advise each client how to integrate technological tools. In order to add value and achieve business objectives.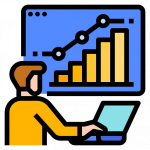 Development
Along with consulting services, implementation work is offered, using state-of-the-art mechanisms and technologies to offer personalized resources at a good cost.
WHAT CHARACTERIZES OUR CONSULTING AND DEVELOPMENT SERVICE?
Personalization

We adapt to each business to implement customized solutions and developments, depending on the needs of each client.
value proposal

We advise and guide the client, making proposals on integrations and automations between different applications to have optimal performance. Always with the objective of achieving a return on technological investment.
VERSATILITY

From advice on the implementation of Octopus Platform integrated with your business, web or mobile application development, to logical designs and network configurations to get the most out of the infrastructure.
Quality

The solutions that we present are subject to demanding quality controls in order to obtain a final software free of errors and totally stable.
HUMAN TEAM

Blue Octopus has a large team specialized in the implementation of different technological solutions to implement in any type of environment.
SHALL WE TALK?
Leave us your information and our team of professionals will contact you